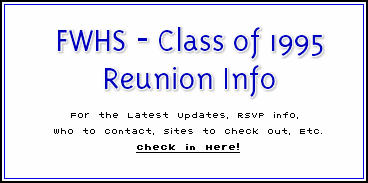 ---
Thanks to everyone who came to the Reunion!

See you at the 20-year!
If you'd like to see photos from the events, here's where to find a few:
FWHS 1995 Reunion - Photos from Steel Lake Park and Club Aristocrats, Saturday, August 13, 2005.
(Note: I will also be adding a few pictures from my DigiCam soon.)
If you have any Reunion-related photos/online albums you'd like to share as well, let me know and I will post the links! (I can also host some pictures for FREE if anyone needs somewhere to put theirs, just send them via E-mail with the captions/credits you want listed and I'll put them online.)
Looking to the Future...
Just because the 10-year is over and done with doesn't mean plans for the 20-year aren't on the horizon! If you think you'd like to help (sometime in the next 10 years), Michelle is the person to contact! There is some leftover money already stowed away from the 10-year, but contributions to the fund are always welcome. [Keep in mind many more Classmates will likely attend the 20-year, so it may cost more to put together!]
Be sure and send on your contact info and anything else you'd like to share so you can be tracked down when the time comes.
~Reunion Committee & Contact Information~
Click name(s) to send an E-mail.
NEW CHANGE - PLEASE NOTE! The Reunion Chairperson is now Michelle Soson, so please contact her with questions or comments, or if you want to help with the planning.
E-mail: michelle_soson@yahoo.com
Phone: (206) 383 - 8495

(NOTE: She recommends you try calling first if you have any urgent questions.)
~Alumni Sites~
Have you registered for them all, or perhaps none yet? They will help make it easier to contact you and your former Classmates!
Check the main Alumni resource page to get started. I have done the "dirty work" and reviewed the major sites and will add more as I find them. Spread the word - time is flying fast!
---
Last Updated: November 14, 2005
BACK TO ALUMNI PAGE