Page Last Updated: January 11, 2005

I have decided to put this page together in hopes of finding my old friends and helping Eagles of the past keep in touch. I have found quite a few Alumni sites out there, and here I plan to list as many of the worthwhile ones there are. If anyone finds more that are worth a look, please let me know so I can review and add them. I'm registered at all of these places (so far) and have found several other people who are listed on most of them as well. I hope by having this page up everyone can get listed at all the sites. The Internet is clearly the best way to keep in contact with people all over the World, so why avoid technology any longer?!?! :@ )
NOTE: Class of 1995 - there's some important info for you below! (Also happens to be my Graduating Class.) REUNION INFO UPDATED AUGUST 5, 2005.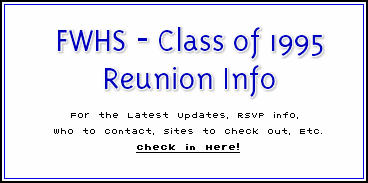 Even if you didn't go there, you can familiarize yourself with my Alma Mater, which has now switched to 4-year High School format (a newer concept for the Federal Way School District).
Click the Eagle's Crest below to visit the *Official* Federal Way High School Website.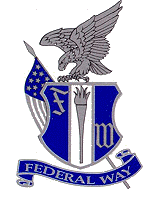 NEW! If you've had enough with looking up old Classmates and would rather rate some of your current and/or former teachers, I highly recommend the following (free) sites:
Below are sites I've registered with, and my opinion of each one. I suggest signing up for all of them if you have the time, to make each one all the more comprehensive and accurate. Don't forget to tell your friends as well! I'm trying to list the good and bad points about each so you have an idea of what to expect, and which may or may not be worth your time. These listings may change over time, as Alumni sites come and go. Many of these sites only cover schools in the USA and Canada, though some also cover Overseas schools. :@ )
ALUMNI SITES: THE REVIEWS
You may find your experience with the following sites to be much different than mine, so if you feel I should go back to any site for a "second opinion", by all means tell me! :@ )
$ - Denotes a mainly payer-supported service.
Internet Safety Information: Always surf smart and do not share your personal or financial information with anyone except on secure sites where it may be safe to do so. (Safe sites are normally denoted by a "padlock" icon in your browser window and an "https://" URL.) My site does not collect any browser "cookies" and no personal information is collected, stored or shared from here. You will not find any Spyware, Bots, Pop-Up Ads, Viruses or other malicious content originating from any section of this Website. Always make sure you are using the latest version of whatever browser (examples: Netscape, Opera, Mozilla, Internet Explorer) and Operating System software (examples: Mac OS, Linux, Windows) to ensure properly secured data transfers.
*THE ALUMNI SITES*

(In Alphabetical Order)
(Click a name below to jump right to that site's review and link.)
Alumni.net / Alumni Explorer / Alumni-Find / Classdays.com / Classmates / Grad Finder / Reunion.com / School News.com / Unreviewed Sites
(All links will open in a new browser window.)

Alumni.net: In one word: annoying! It would be a great site if they didn't push a popup ad for every page you load, along with overly-begging "interstitials" at random times. It is nice in how you can use the site in a handful of different languages, along with school listings in pretty much any Country you can think of, but since not many are listed for the most part, as well as the site being a nightmare-ish giant infomercial, well, if you don't mind that, go ahead and join, they could use some more people there. If you do decide to stick around there, get a Pop-up killing program: I recommend POW! by AnalogX or Yahoo's Toolbar with the built-in Pop-Up Blocker. (You'll thank me for that later.)

Alumni Explorer: It's basically another High School Alumni/Reunion looking site, but is free to join. Really slick layout here, and it's really easy to search for people. However, since there aren't many people there yet, it's not going to help much to try and search, but if enough people join in, could also do pretty well. I did run into a few server problems while trying to surf about though. It has the makings of a fairly decent resource if things are spruced up a little more.

Alumni-Find: I joined out of curiosity from a tip a visitor gave me. It is free to join as well, and they claim it always will be. It turns out I'd already joined ages ago (though I'd forgotten), and I couldn't find a way to remove my duplicate listing. The navigation is really confusing and I got too frustrated to try and figure my way around. There's nobody really there yet either, but check it out and let me know if you have an easier time finding your way. It could be quite good if they just tweak the layout a little more.

$ Classdays: Not much here yet, but I joined anyway. It's basically laid out like Classmates, but a little more confusing, interface wise. Free to join, but also has a "Gold" paid service (with basically the same "extra" features as Classmates' paid services), though I couldn't justify paying for a service nobody is really on yet. If more people join in, it could be well worth visiting, and actually paying for. It has good potential, so help them out and join too!

$ Classmates: By far your best bet to find people not only from High School, but College/University, the Military, and even Workplace colleagues! Recently added lower levels of Schooling (Elementary/Junior High) to the list. It's free to join, but well worth the price for the "paid extras"! (Such as Website listing, Message Boards, and Image Uploads.) This one has been around for quite awhile and likely will stand out from the rest for years to come. Don't forget to opt out of their advertiser's newsletters if you'd rather not get junk mail. One slight downside: it seems if you want to read certain info in someone's profile, you have to fill out the same info in your own first. But people are nosy and want to know that stuff anyway.

Grad Finder: I like this site for the most part, though not many are listed there yet (though more than some of the other, smaller sites have). It's simple to navigate, and it's free to join! You can put a picture in your profile if you wish (also for free!), and you can also include other schools you went to through your educational career (if that's what you want to call it). It also has other countries listed for those International Alums, which is a nice feature. It really just needs more people and exposure to be great. You should check it out.

$ Reunion, formerly known as High School Alumni: One of the first sites I joined, but doesn't have as many people as you'll find at Classmates. It's still evolving, and has been around awhile as well. Not sure if this is free to initially join anymore; I believe you can add yourself for free, but have to pay to read other people's info. (Which is just a bit annoying.) Still not bad at all, and you can opt for the "extra" paid features (such as adding pictures to your profile) if you wish,though it's not mandatory. I understand they also have a TV show that profiles Reunions with people as well. I recommend this second to Classmates on your list of places to visit.

$ School News: A simple, but really great site. It only covers High Schools in the USA and Canada, but is free to join with a basic listing, though they now offer a new user one-time fee if you want to do more there like uploading a picture (it did used to be free all around, and early users will find they don't have to pay at all, though paying the fee will help to keep their operating costs down). It's really easy to find all the years listed for each school, and with its clean layout isn't a bother to surf around. There's a great FAQ if you are confused about anything, which I haven't seen on other sites. One really neat bit about it: instead of banner ads, it lists "Memories/Trivia" at the top of each page. It's only got a handful of people there now, though is another place you should definitely add yourself to.
Site(s) I Have Yet to Review:
FederalWayHS.com (aka Alumni Archive)
---
Note & Disclaimer: These are the unsolicited opinions of Jill alone - I am not being financially compensated nor directed to give an opinion by any person(s) and/or companies linked on this page. This is my own personal project to help others in finding useful Alumni information on the Internet. I claim no responsibility for computer problems due to visiting outside links from this or any other site(s). See the above noted Internet safety information for more.